King of the road
Thread Starter
Aktiv
30 Mai 2017
142
1.506
943

For me, Kanchanaburi is definitely one of the top 5 riding destinations. I visited the province numerous times with fellow riders or family but this time decided to go alone.

Left Phuket May 25th early morning, rain followed me all the way to Prachuap Khiri Khan where I took overnight break.
The moment I park the bike, sun came out....what an irony. And that was the last rain I've seen for next 7-8 days or so, while west coast and south were pounded by monsoon for weeks to come.

Following day by 9am on my way towards Kanchanaburi. Excellent weather, surprisingly not much traffic and most of the hwy 4 being repaved.
Just before arriving to Kanchanaburi town, stopped here to check this giant monkypod tree.

GPS: 13.95517, 99.52676
The giant rain tree is more than 100 years old with a trunk large enough to be encircled by 10 people. The average radius of its crown is 25.87 meters and the diameter of its shadow is approximately 51.75 meters while the height of its canopy is 20 meters and the large shady crown covers a total area of approximately 2,416 sq.m.

I parked my bike right next to it in order to illustrate size of the tree:
Customary visit to "The Bridge" and restaurant beneath: love this place, food, view and tranquility especially in low season.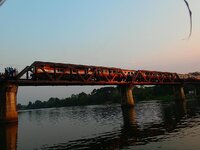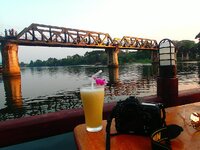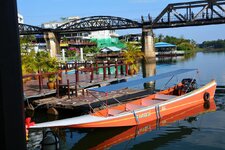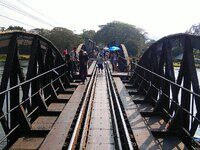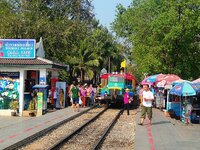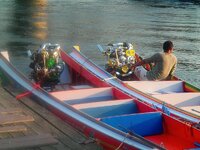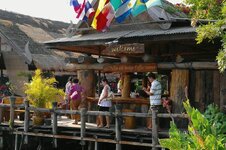 As usual, overnight stop at my fav place, Thai Guesthouse. Owner is my friend and Ducati Rider. THB 600, a/c, hot water, Cable TV, free coffee.
GPS: 14.03302, 99.52243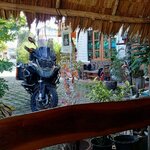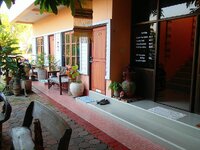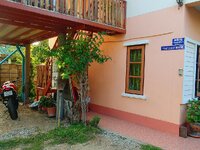 ​