You know what they say:

"Call some place paradise and kiss it goodbye"
I sure hope that won't be the case with Koh Kho Khao, an island 130km north of Phuket.

I live in Phuket but in order to truly enjoy beaches and relax with my family far away from rowdy crowds, Khao Lak and Koh Kho Khao are the two obvious nearby choices.

This was my third trip to Koh Kho Khao island. Usually I bring some of my European rider friends for lunch and leave in afternoon. This time I decidedto spend 3 nights and switch-off completely.

To get there, use Hwy 4 and ride towards village of Ban Nam Khem. This small fishing village lost more than half of itspopulation of some 5,000 people when the tsunami struck in 2004. Out ofapproximately 1500 houses, only 49remained. There is a small memorialpark commemorating this disastrousevent.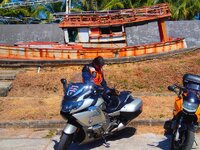 Just east of the memorial park is ferry pier to the island itself. It takes about 20 minutes to reach the island, price THB 100 covers motorcycle me and the passenger.




While on ferry might as well indulge into some Asian Roti Pancake.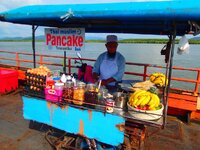 ​